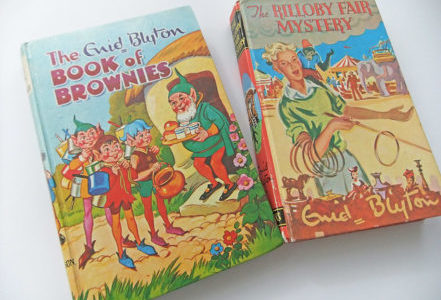 Enid Mary Blyton (1897-1968), born in London, was our most-loved and prolific author of children's literature. Emerging from her own unhappy childhood, Enid used stories to entertain and educate children as to the ideal family life. They contain plenty of moral guidance and focus on children's resilience, loyalty and creativity. Her worldwide audience found them spell-binding and adorable, and she is the fourth most translated author, with editions in ninety different languages.
Enid's first marriage to a book publisher helped advance her career, but she was always determined to write her stories, producing thousands of them over her forty-year career.  She did not plan any of them, just typed what she saw in her mind's eye. At her peak in the 1940s-50s, she was writing ten thousand words a day and fifty books a year.
'Noddy' and the 'Famous Five' are the most well-known of her many series. The genres included mystery, adventure, nature, religion and fairy tales, typically set in farms, circuses, boarding schools, islands and castles. Although some critics have attempted retrospectively to attach the 'politically incorrect' label to her work, it continues to sell and to appeal to the inner world of children's imaginations.
(Image: peonyandthistle at Flickr.com / CC BY-NC-ND 2.0)