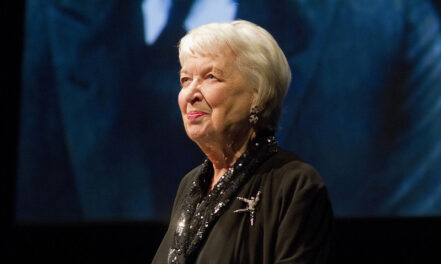 Londoner Dame June Whitfield (1925-2018) studied at the Royal Academy of Dramatic Art during WW2. Beginning with Shakespearean theatre, she was destined to have a very successful, busy acting career. This spanned radio, TV, film, pantomime, voice-overs and musical theatre and endeared her to a large audience. Her crystal-clear, melodious voice lent itself equally well to song, speech and comedy impersonations.
She first became famous for playing Eth, engaged to the dimwitted Ron in radio's 'Take It From Here' (1953-60). She went on to work alongside many of the comedy greats but claimed she never wanted a starring role herself after seeing the stress that some of them suffered. Nevertheless, after the TV sitcom 'Beggar My Neighbour' (1966-68) she started working with Terry Scott (1927-94) in 'Scott On' (1968), then 'Happy Ever After' (1974-79) and finally 'Terry and June' (1979-87), in which she was arguably the co-star.
She appeared in four 'Carry On' films ~ in 1959, 1972, 1973 and 1992. Her last film was 'Absolutely Fabulous: The Movie' (2016) in which she reprised her role as the grandmother in the 'Absolutely Fabulous' series (1992-2012), adding a touch of sanity to the goings-on. On radio she memorably played the title role in 'Miss Marple' (1993-2001), proving not just her versatility but her star quality.
(Top image: Guy Manchester at Flickr.com / CC BY 2.0)