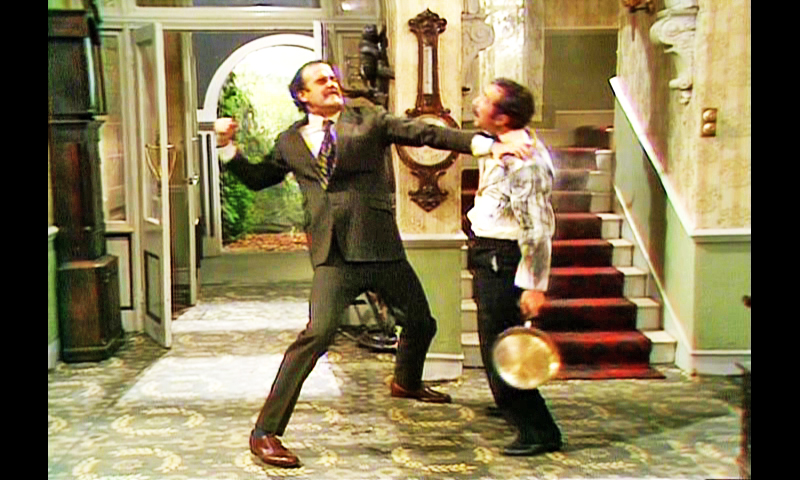 The British 'sitcom' (situation comedy) began life on radio after WW2 but it quickly moved to television due to the benefits of retaining the same cast, writers and scenery week after week. Writers Galton & Simpson were its pioneers in the 1950s and the genre was so successful that it led to a 'golden age' spanning all of the 1970s/1980s. A slow decline in new series followed, although re-runs, DVDs and internet viewing of old shows remain popular.
To pick out just a few, from the 1960s there was:
Till Death Do Us Part
Whatever Happened to the Likely Lads?
Dad's Army
the 1970s:
Some Mother Do 'Ave 'Em
Fawlty Towers
The Good Life
Porridge
the 1980s:
Only Fools and Horses
Yes Minister
'Allo 'Allo
Black Adder
and the 1990s:
One Foot in the Grave
Ever Decreasing Circles
Vicar of Dibley
Like TV soaps, sitcoms are sometimes used as a vehicle for introducing and normalising certain social issues. 'Love Thy Neighbour' in the 1970s, for example, did a splendid job of ridiculing racist attitudes and showing our commonality. The ability to laugh at ourselves is at the heart of the TV sitcom, especially in a calamity of one sort or another.
(Top image from 'Fawlty Towers': Insomnia Cured Here at Flickr.com / CC BY-SA 2.0)