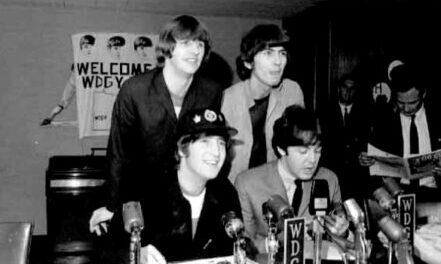 The Beatles were a musical phenomenon in the 1960s that changed the pop music genre forever. There are many superlatives that can be applied to their songs, most of which were composed by the legendary Lennon & McCartney partnership. They were friends from an early age and wrote their best-selling single ~ 'She Loves You' (1963) ~ in the back room of Paul MCartney's childhood home in Liverpool.
Their songs are so melodic, innovative, memorable and appealing, that they have been sung by countless other performers over the decades and are well-known to this day. Each of the four group members ~ Paul McCartney (1942-), John Lennon (1940-80), George Harrison (1943-2001) and Ringo Starr (1940-) ~ became superstars with millions of fans worldwide. The term 'Beatlemania' described the over-excited reaction of their adoring female fans.
After the band split up in 1970, each of the 'Fab Four', as they were known, carried on making great music separately. Sadly, John and George are no longer with us, but they all left an indelible mark on British music which may never be repeated.
(Image from a 1967 press conference: Minnesota Historical Society at Wikimedia Commons / CC BY-NC 2.0)