The Crystal Palace (a.k.a. 'the Palace of the People') began as a glass-walled, modular, 3-storey hall-cum-greenhouse in Hyde Park for the 1851 Great Exhibition. Bedfordshire-born Sir Joseph Paxton (1803-65) took just nine days to produce the design since he simply scaled-up the lily-house he had built at Chatsworth House, where he was Head Gardener.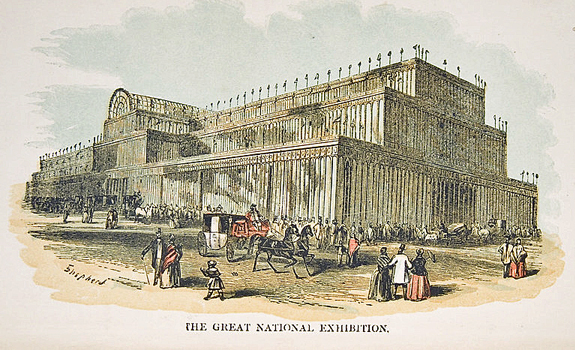 The cost to build the Palace was £150,000 and it employed 2,000 workmen. The use of so much glass was unprecedented in Britain and it proved very popular. After the Exhibition, Paxton re-erected it on 200 acres now known as Crystal Palace Park on Sydenham Ridge, south London, in 1852-4, but the cost of his additions, including two extra floors, numerous fountains, courtyards, water towers and ambitious leisure facilities, went way over budget at £1,300,000 and employed 7,000 workmen and specialists. Debt hung over the enterprise for decades, partly because despite its wide-ranging attractions, there was no Sunday opening permitted in those days.
It suffered a big fire in 1866 but the fire of 1936 completely destroyed it. The operators had already gone bankrupt in 1911 despite all efforts, including hosting that year's Festival of Empire. A few remnants of the Park's heyday survive, including the TV transmitter, Sports Centre and the world's first full-size dinosaur models.
(Top image of the re-built 5-storey Sydenham Crystal Palace: Andy Scott at Wikimedia Commons / CC BY-SA 4.0)