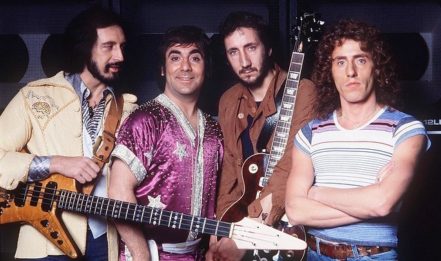 The Who have two surviving members of the original band ~ singer Roger Daltrey (1944-) and songwriter-guitarist Pete Townshend (1945-). With drummer Keith Moon (1946-1978) and bass guitarist John Entwistle (1944-2002), they became the most exciting and hard-working rock group to emerge from London in the 1960s. They have sold more than 100,000,000 records worldwide.
In 1964 they came together as The Detours, then changed the name to The Who, then The High Numbers, then back to The Who. At this time they were covering pop singles but when Townshend began writing their own songs, they leant towards the mod scene. He penned their first chart hit, 'I Can't Explain', in 1965, followed by the classic 'My Generation'. While Entwistle was the calm,  barely moving figure on the side, the other three displayed such energy on stage that it led to smashed instruments, which became a rather expensive gimmick for a while.
Townshend pioneered pushing the electric guitar to its limits and with Entwistle's melodic bass, Moon's pounding dynamism on the drums and Daltrey's gritty call-to-arms voice, they produced a sound like no other. They are in the Guinness Book of Records for playing the loudest gig and were the first to create a rock opera, 'Tommy'.
(Image: PanAmerican09 at Flickr.com / Public domain)