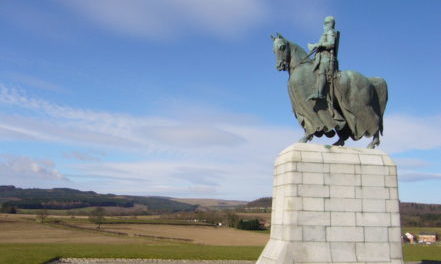 The Battle of Bannockburn
Of the many historic battles between the Scottish and English armies, the Battle of Bannockburn is the one most cherished in Scotland. Political parties campaigning for Scottish independence hold an annual Bannockburn Rally to commemorate the victory of Robert the Bruce's army over that of King Edward II (1284-1327). For England, this was yet another failure in Edward's calamitous reign. It was a time of rebellion and discord, but Edward was wrapped up in his personal relationships.
Robert the Bruce (1274-1329) was one of many claimants to the Scottish throne, vacant for ten years, and it seems he was the most determined, stabbing his final rival on his way to the top in 1306. By 1314 his consolidation of power culminated in his siege of Stirling Castle, held by the English.
Edward II was no tactician and although he had previously accompanied his father to Stirling, he completely underrated the difficulty of the Castle's surrounding boggy parkland and the Bannock Burn stream. The English were caught out, confused and unable to retreat, so were slaughtered mercilessly, horses and all. The park and stream were full of steaming corpses. No prisoners were taken and thousands of horses and men lay dead by nightfall on 24th June 1314.
(Image of Robert the Bruce statue at Bannockburn: Kim Traynor at geograph.org.uk / CC BY-SA 2.0)