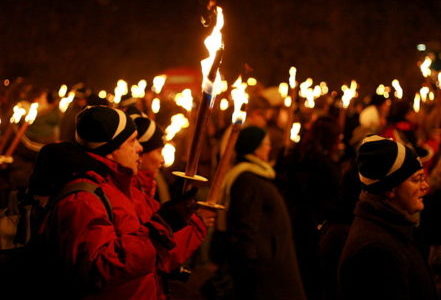 If you ever wondered why Scotland has an extra day for New Year's Bank Holiday (1st and 2nd January), the Hogmanay celebration is the answer. It lasts at least three days, sometimes more, and is a bigger event traditionally than Christmas. It could rightly be called a 'fire festival' as there are torchlight parades, fireworks and swinging fireballs to be seen, with people taking to the streets and parks to enjoy parties, concerts and community gatherings.
Centuries-old traditions include:-
cleaning the house ~ ready for the new year;
paying off debts ~ to round off the old year;
singing 'Auld Lang Syne' ~ sung at midnight on 31st December, as a fond farewell to the old year;
first footing ~ the first person to enter your house on New Year's Day must be a dark-haired male, bearing a lump of coal, a black bun, salt, whisky or shortbread, to bring good luck for the new year.
(Image: Jenni Douglas at Flickr.com / CC BY 2.0)