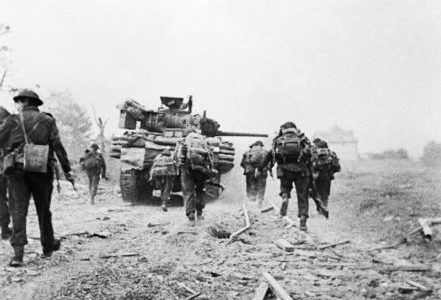 In the term 'd-day' the 'd' simply stands for 'day', emphasising its importance. It means the day on which something significant is going to happen. The D-Day of 6th June 1944 acquired that name due to it being the beginning of the Allies taking back German-occupied France with the biggest seaborne and air invasion in known history. Over a million troops landed in Normandy in the weeks following D-Day, while the Germans were outmanoeuvred and their air force utterly outnumbered.
Britain and her Allies, after a tricky start to WW2, were gaining victories in the south ~ in North Africa, Sicily and Italy ~ and in 1943 they began planning a north-western attack from the shores of England. The date of 5th June was carefully chosen to take into account the tides but bad weather actually delayed it by a day, to the 6th.
The British General Montgomery and the American General Eisenhower led the Allied forces and in a few months they and the French army had succeeded in recapturing Paris, with the French President de Gaulle parading triumphantly through the streets. Many veterans and their relatives visit Normandy each year to see the museums, memorials and cemeteries of this monumental military operation.
(Image of British troops on D-Day: Wikimedia Commons / Public domain)