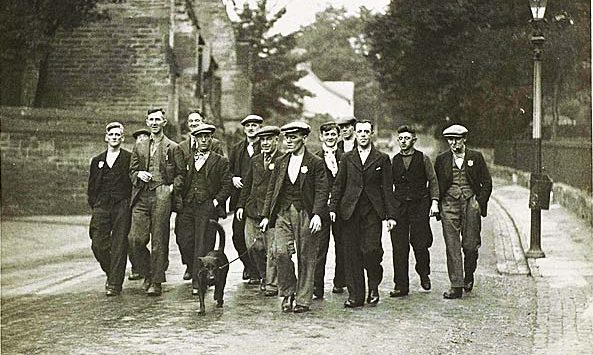 The 1929 'Wall Street Crash' over in the USA had repercussions in the UK which put a halt to big-money investment and spending in our coal, steel, iron and shipbuilding industries. Consequently, there was high unemployment in many areas and men with strong work ethics were placed in poverty and idleness. This state of affairs was known as the 'Great Depression' and, following on from the 'Roaring Twenties', the 1930s were a stark contrast to former times.
Thus it was that 207 men (and one dog) from Jarrow, on Tyneside in north-east England, decided to march to the House of Commons nearly 300 miles south. They were all checked for fitness before setting off on 5th October 1936. Some marched like soldiers ~ 50 mins. then 10 mins. rest ~ and they all arrived on 31st October to present a petition requesting Government assistance to regenerate Jarrow's industries. The town's MP, Ellen Wilkinson (1891-1947), pleaded their cause to deaf ears. Some of the men found employment in London, while others returned home.
Philanthropist Sir John Jarvis (1876-1950) tried to help by setting up a ship-breaking yard and one or two other businesses in Jarrow, but although this was welcomed it was not enough for a once-thriving area that employed thousands.
(Image: jenikirbyhistory.getarchive.net / Public domain)