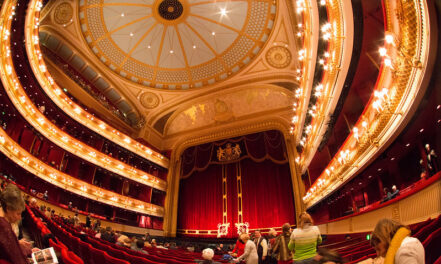 The Royal Opera House (ROH), situated in London's Covent Garden district, began life as the Theatre Royal in 1732 and has only specialised in opera and ballet since 1946. It had previously hosted a range of artistic genres, including pantomime, the last of which was staged just before WW2. It is now the home of the Royal Opera and Royal Ballet companies, with the Royal Ballet School next-door and connected by the Bridge of Aspiration.
The ROH saw the first public piano performance in 1767, the first use of limelight (invented by Sir Goldsworthy Gurney) in 1837 and the first complete performance of Wagner's 'Der Ring des Nibelung' in 1892, conducted by Gustav Mahler on his only visit to London. By that time the name had changed to the Royal Italian Opera House, but the Wagner/Mahler event prompted the owners to drop the word 'Italian' in acknowledgement of all the French and German composers then gaining popularity.
The building itself has been destroyed by fire twice, in 1808 and 1856. Following remodelling works in 1996-9, only the façade, foyer and 2,268-seater auditorium are left from the 1858 reconstruction designed by Sir Edward Middleton Barry (1830-80), along with the statues and frieze salvaged from the 1809 building designed by Sir Robert Smirke (1780-1867).
(Image: Norio Nakayama at Flickr.com / CC BY-NC-SA 2.0)