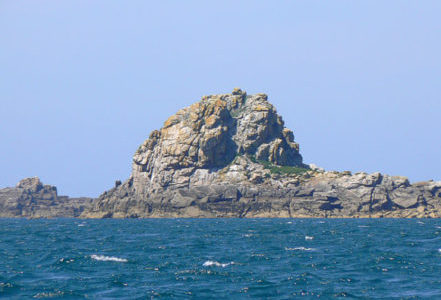 Thousands of years ago, the Scilly Isles were one land mass and ancient remains, including castle ruins, can be seen there. After a flood, it became the archipelago we see today. Five of the isles are currently inhabited ~ St. Mary's (the biggest), Tresco, St. Martin's, St. Agnes and Bryher. There are twenty-seven uninhabited isles and more than one hundred uninhabitable tips of granite rock.
One of these, Bishop Rock, hosts the UK's south-westernmost lighthouse. Its construction in 1858 was an amazing feat but unfortunately much too late for the biggest loss of life for the English fleet in one incident, in 1707. Up to two thousand sailors drowned after their ships hit the rocks west of St. Agnes. Today, the lighthouse runs by remote control but there is a helipad on the top.
Visitors to the Scilly Isles arrive by air or on the Scillonian ferry from mainland Cornwall almost thirty miles away. They are unable to take their cars, as the isles are too small. Instead, there are plenty of electric buggies, bicycles, ponies, a few taxis and a local minibus, but as the perimeter of St. Mary's is only about twelve miles, Shanks's pony is a good option.
(Image of Puffin Island, Isles of Scilly: John Rostron at geograph.org.uk / CC BY-SA 2.0)