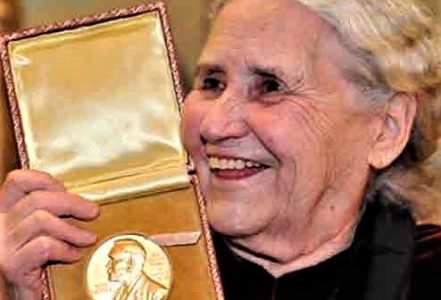 Doris Lessing (1919-2013) had an eventful life and drew on her multi-faceted experiences to write about women in all types of situation. A feminist icon of the 1960s and 1970s, she grew to distance herself entirely from the feminist movement as it evolved. In 2007, she was awarded the Nobel Prize in Literature and has won many other honours, though she declined a Damehood.
The themes of her novels include freedom, women's lives and issues in former British colonies. She lived in Iran and Zimbabwe until she was twenty-nine when, with two failed marriages behind her, she moved to London. She had direct experience of poverty and the clash of cultures. She had also delved into other ideologies, having at one time joined the Communist party. She was anti-racist, anti-apartheid, anti-war and anti-nuclear arms.
Her writing skills moulded this wealth of life events into stories with powerful messages. 'The Golden Notebook' (1962), with its psychological explorations, was ground-breaking in its structure, but Lessing's own favourite was said to be her 5-part 'Canopus in Argos: Archives' (1979-83), written in her 'space fiction' phase. She continued writing almost to the end. 'Alfred and Emily' (2008) was partly a re-imagined life of her parents had WW1 not happened.
(Image: In Memoriam Day at Flickr.com / CC BY-NC 2.0)