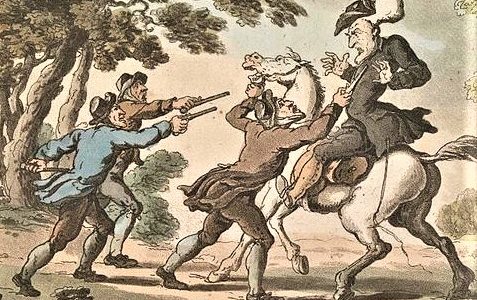 In the period of 1650-1830, that small, persistent, criminal section of society found a new method open to it, giving rise to the phenomenon of 'highwaymen'. Thieves took advantage of the newly invented flintlock pistols, unlit rough roadways and the cover afforded by thick forests, to hold up passing stage-coaches at will. This activity was a particular problem on the roads serving London and the highwayman's cries of "Stand and deliver!" and "Your money or your life!" heralded a frequent threat.
Legendary highwaymen like Dick Turpin, Jack Shrimpton and William Davis (the 'Golden Farmer') attracted romantic notions of gallantry, but, far from being lovable rogues, most were violent psychopaths who would think nothing of taking someone's life savings and torturing or murdering their victims. Travellers became very wary of hotspots like Hounslow Heath, Wimbledon Common, Blackheath and Bagshot Heath, and were thankful for the coaching inns dotted along their routes.
Stage-coaches started to employ armed guards and some passengers even carried their own pistols. A highwayman's life was precarious, with many being hanged before the age of thirty-five. Their atrocities were finally put to an end in 1805 with the Horse Patrol and in 1829 with the founding of London's Metropolitan Police force.
(Image: Thomas Rowlandson 1812 at Wikimedia Commons / Public domain)