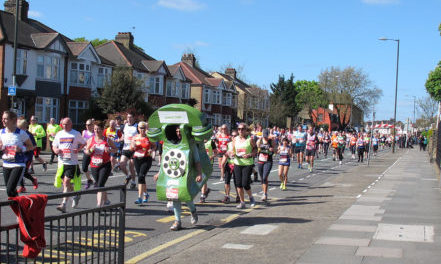 Christopher Brasher, CBE (1928-2003) and John Disley, CBE (1928-2016) took part in the New York City marathon in 1979 and were so enthused by the joy of that experience that they decided to start the London Marathon in 1981. It has taken place every April since, breaking records each year.
Their six stated aims reflected what they had seen in NYC ~ people of all backgrounds coming together to have fun, achieve a goal and cheer each other on while raising money for charity. It was also to show the UK's know-how in staging major events, to provide an opportunity for international athletes to compete and to encourage everyone to participate in sport. Over a million people have now taken part in the London Marathon.
It holds the record for the greatest amount raised in a single day, namely £63,700,000. Individual records are held for the 'fastest in a full-bodied animal costume', and 'fastest dressed in a tent', etc., but the actual track record is 2:02:37 (2019) for its 26.219 mile length. Most runners take much longer than this, but there is a time limit of 24 hours. In 2005 a cobbled street section was bypassed in a re-routing of the track, which starts at Blackheath and finishes on The Mall.
(Image: Stephen Craven at geograph.org.uk / CC BY-SA 2.0)