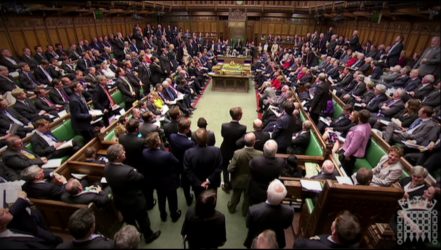 Prime Minister's Questions
Prime Minister's Questions (PMQs) began as a concession to elderly Prime Ministers. In 1881, when PM Gladstone was seventy-one, it was decided that he should only field questions at the end of each day's Parliamentary schedule. Then in 1953, this was reduced to just Tuesdays and Thursdays for the seventy-eight-year-old PM Churchill.
In 1961, a 15-minute time limit was set for mid-afternoon, but in 1997 PM Blair scrapped that for the single 12.00-12.30pm time-slot on Wednesdays that we have today. As well as these changes, the event itself has gradually taken on the characteristics of a cross between a piece of theatre and a school gang confrontation. Although it can be a showcase of a PM's and Opposition Leader's debating skills and wit, it often subsides into snide point-scoring and general rowdiness.
Questions are submitted beforehand and picked at random. It is normal for an MP to submit a standard question on the PM's list of engagements for that day, which can then be followed up by a supplementary question (the real question), for which the PM has had no notice. Since this is outwardly the most exciting part of the Parliamentary week, tickets to sit in the public gallery are in high demand.
(Top image: Wikimedia Commons / CC BY 3.0)