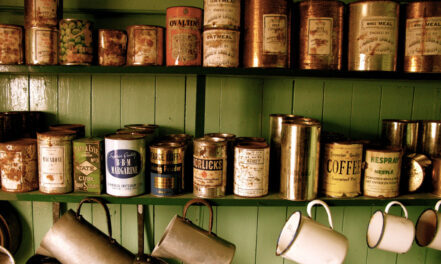 Northumberland-born Bryan Donkin (1768-1855) was an extraordinarily creative engineer whose inventions included the world's first commercial canning process. This was operated in a small factory in London from 1813, next-door to his paper-making factory. He ran both of these enterprises with partners John Hall and John Gamble and their company would later merge with food producers Crosse & Blackwell Ltd.
Peter Durand (1766-1822) of London had patented a method for preserving food by heating it in tin cans, rather than the glass jars used in a similar French idea. Donkin purchased Durand's patent for £1,000 and developed it over the next two years before production began. Compared to today's output of millions of cans per day, the initial six cans per hour were 'baby-steps' and as the cans were made from tin-plated iron soldered with lead, they were also much heavier. Nevertheless, royalty, the military, explorers and eventually the public, were delighted with this ingenious aid to a healthier and more varied diet.
Meanwhile, both Durand and Thomas Kensett (1786-1829) from Middlesex had separately taken the invention to the USA, where machinery modifications sped up the process enormously. Robert Yeates, also from Middlesex, patented the first can opener in 1855, removing the need for hammer and chisel!
(Image of vintage tinned food at a historic British base in Antarctica: Serge Ouachée at Wikimedia Commons / CC BY-SA 2.0)