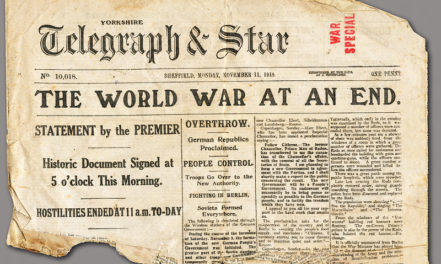 By September 1918, Germany realised it could not win the 'Great War' against the Allies and the armistice ~ the halting of hostilities ~ was agreed on 11th November 1918 at 5.10am in a railway carriage parked at Compiègne, north-east of Paris. A quarter of the German army had been captured, many soldiers were deserting and the people were rebelling in the face of food shortages, so their representatives had no choice but to sign. The ceasefire was set for 11.00am.
That day became known as Armistice Day. Although there were celebrations, the devastating toll of thirty million killed or wounded meant they were muted. Tragically, hundreds of soldiers were killed on that final morning, even as late as 10.59am. The Treaty of Versailles, confirming the conditions of surrender, was signed on 28th June 1919.
Armistice Day became hugely important as the nation's main commemoration of all those who had given their lives. The two minutes' solemn silence at the eleventh hour on the eleventh day of the eleventh month each year continued until WW2, after which it was officially moved to Remembrance Sunday, although the elevens are still ingrained in the British psyche. Weirdly, the assassinated Archduke Franz Ferdinand's car registration number was AIII118.
(Image [cropped]: Roger Butterfield at Flickr.com / CC BY-NC-SA 2.0)