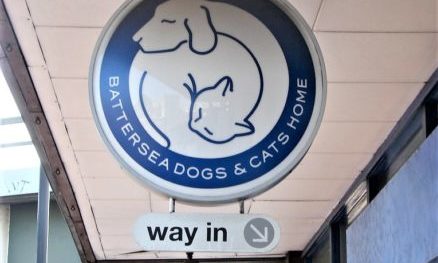 Mrs. Mary Tealby (1801-65) was born in Huntingdon and moved back with her mother in Holloway in 1860. She was so moved by the plight of emaciated dogs roaming the London streets that she began to take them in. She found some local stables and named her project 'The Temporary Home for Lost and Starving Dogs'. This was the founding of what became known as 'Battersea Dogs Home', or 'Battersea Dogs and Cats Home' since 2002.
Mary did not live to see it move to the Battersea location in south-west London, adjacent to Battersea Power Station, in 1871 but she would doubtless have been thrilled to know that well over three million dogs and cats would benefit from her  efforts. Battersea Dogs Home is so famous it has entered everyday language as the go-to place for stray dogs. Its fame has been increased by the TV programme 'For the Love of Dogs', which shows the progress of particular dogs.
Although the Home has taken cats since 1883, this is not so well-known. However, cats are re-homed in an average of twenty-two days, as opposed to thirty days for dogs. The Home has its own veterinarians, groomers and behaviour specialists, so each animal receives professional care.
(Image: Jim O'Donnell at Flickr.com / CC BY-NC-SA 2.0)