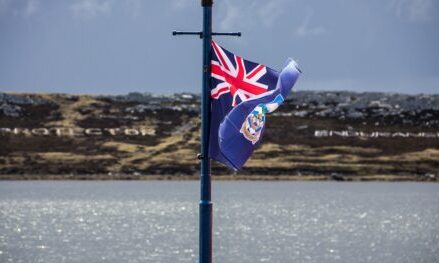 The Falkland Islands are a British Overseas Territory  just north of the British Antarctic Territory and south-east of Argentina. English mariner John Strong (?-1693) made the first landing on the uninhabited archipelago in January 1690 but only stayed long enough to name the islands after the 5th Viscount Falkland, one of the owners of his ship. The British claimed possession in 1765. Commercial fishing and sheep farming have become the main industries.
Argentina has twice attempted an invasion, in 1832 and 1982, both times failing after a few months. Despite this, their Constitution of 1994 purports to classify the Islands as an Argentinian province, completely ignoring the self-determination of the 3,000+ inhabitants to remain British. This was reflected in the size of the British Armed Forces' response to The Falklands Conflict of April-June 1982.
To the Argentines' dismay, 127 British ships and 42 aircraft were sent the 8,000 miles to the South Atlantic, via Ascension Island. Shockingly, the BBC leaked sensitive information on their World Service which threatened part of Operation Corporate, as it was called. That aside, matters concluded on 14th June with Argentina's surrender. 649 Argentines, 255 Britons and 3 Falkland Islanders lay dead. Several ships had been sunk, most notably the Belgrano, with the loss of 323 Argentines on board.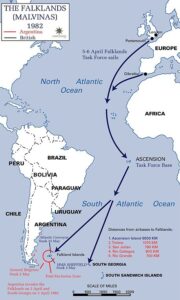 (Top image: Alex Petrenko at Wikimedia Commons / CC BY-SA 3.0)