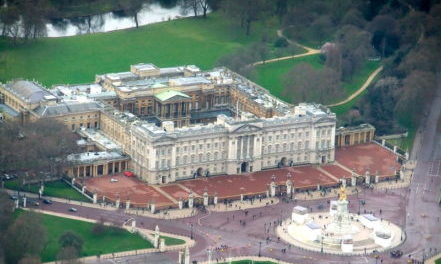 King James I & VI (1566-1625) tried his hand at sericulture on 42 acres in central London in the early 1600s, but he was supplied with the wrong type of mulberry bush for silkworms. This and the unfavourable weather doomed his efforts to produce silk. The land, on which there was a large house acquired by the Duke of Buckingham in 1698, came into the possession of King George III (1738-1820) in 1762. This would become the now world-famous Buckingham Palace under the reign of his son, King George IV (1762-1830).
Queen Victoria (1819-1901) was the first monarch to take up residence there, which she did on acceding to the throne in 1837. The balcony from which royal groups wave to the crowd on special occasions was the idea of her husband, Prince Albert (1819-61).
The Palace, known affectionately as 'Buck House', has 775 rooms and is built around a quadrangle. The ballroom is the largest room at 120x59ft. and 44ft. high. The Palace hosts events such as receptions for Heads of State, garden parties and investitures. The public is able to visit the Queen's Gallery and the Royal Mews, plus the 19 State Rooms at certain times during the year. The Palace's 92 offices form the headquarters for administration of royal business.
(Image: James Cridland at Flickr.com / CC BY 2.0)