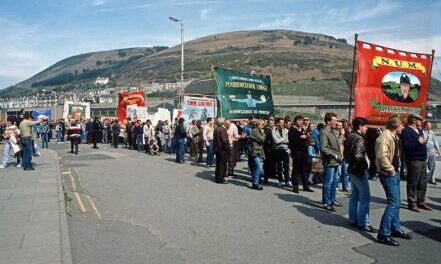 The Miners' Strike of 1984-85
Britain has utilised its vast natural coal resources for 1,000 years and many inventions (including railways) arose by way of improving mining safety and efficiency. Coal was essential to the Industrial Revolution since it was the means by which iron was produced. For centuries households had coal-fired boilers and homes would have individual bunkers or cellars for coal storage.
Mining areas were renowned for community spirit engendered by shared toil in difficult conditions. This was a big factor in the miners' strike that ran from March 1984 to March 1985.
Yorkshireman Arthur Scargill (1938-) led the National Union of Mineworkers (NUM) against 20 pit closures, the first of 75 scheduled over a 3-year period. Miners from Yorkshire, Durham, Scotland, Kent and South Wales went on strike, but others in North Wales and Nottinghamshire did not. Margaret Thatcher's government rejected the NUM's arguments and after thousands of  sackings and picket-line arrests and injuries, the strike failed and still workable mines closed.
When the coal industry was nationalised in 1947 there were 850 collieries employing 700,000 men producing 225,000,000 tons of coal per year. Controversially, the National Coal Board (now the 'Coal Authority') proceeded to shut down almost all operations, with the last remaining deep mine ~ Yorkshire's Kellingley Colliery ~ closing in 2015.
(Top image of march in Port Talbot 1984: Alan Denney at Flickr.com / CC BY-NC-SA 2.0)