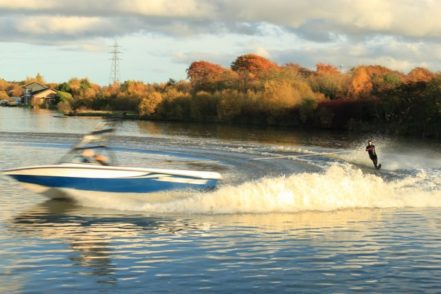 The sport of water skiing was invented in 1922 in the USA and Americans have certainly been dominant in the rankings ever since. However, it has spread to the UK and elsewhere and we can claim to have had half a dozen British world champions over the years.
Today it is joined by a variety of different water sports, such as wakeboarding, and there are plenty of clubs around. As islanders with plenty of lakes, reservoirs and coastline at our disposal, the only problematic issue is the weather! Indeed, most of our British champions have trained or taken up residence in the warmer parts of the USA, particularly Florida.
Along with world and European champions such as Jeanette Stewart-Wood, Andy Mapple OBE, Mike Hazelwood, Will Asher, Nicole Arthur and, most recently, Freddie Winter, Britain has the first person ever to water ski the entire 23-mile length of Loch Ness. He is David Scott Munro and he accomplished this feat on a mono-ski (single ski) in 1974.
(Image: Edward McMaihin at geograph.org.uk / CC BY-SA 2.0)