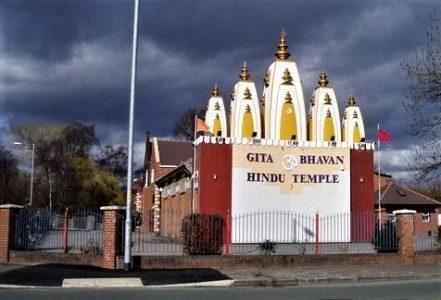 The term 'Hinduism' covers a rich diversity of beliefs and practices. There are few rules and the sacred texts are open to personal interpretation. It is a pluralistic religion which has been in the UK since the early 1800s. There are now 1,050,000 Hindus, mainly in London and the Midlands. The London Borough of Harrow has the highest density of Hindus, at 25% of the population.
Hinduism was brought in by immigrants from India, Nepal, Uganda, Sri Lanka and parts of the West Indies. It promotes peace and keeping to the law, educational achievement, hard work and the entrepreneurial spirit. Some Hindus pray daily at the temple and have periods of meditation and fasting, while others do these moderately or not at all. Some follow particular gods or saints, such as Vishnu, Shiva or Shakti, while others are atheists, seeing Hinduism as a philosophy rather than a religion.
The first purpose-built British Hindu temple was in Slough, where it opened in 1981. There are now nearly two hundred. Core Hindu principles include duty and karma, and all Hindus believe in the cycle of reincarnation until the soul is finally released.
(Image of chuch converted to temple in Manchester: R. Greenhalgh at geograph.org.uk / CC BY-SA 2.0)