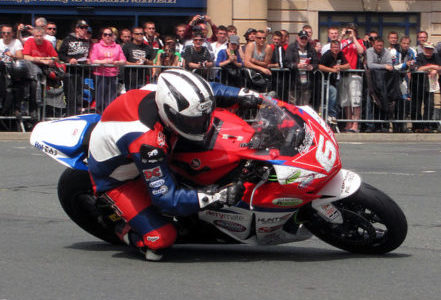 The Isle of Man, a Crown Dependency, has hosted the world's fastest and most dangerous road race for motorbikes since 1907. The Isle of Man TT (Tourist Trophy) takes place every year during a fortnight in May/June. The circuit is called the Snaefell Mountain Course (or 'TT Course') and there have been almost 150 crashes resulting in deaths to riders and sometimes spectators and marshals.
One lap of the circuit is 37.73 miles long and the record average speed is 135mph (as at 2018). The races are time trials, with riders setting off at 10-second intervals. There are seven different classes, including Sidecar, and a new class called TTZero which is for electric motorbikes.
The TT continues to attract more spectators each year, many of them staying at camp-sites. The Sunday in the middle of the fortnight is known as 'Mad Sunday' as there is no racing on that day and spectators can try out the circuit for themselves, under the watchful eye of the local police.
(Image: Agljones at Wikimedia Commons / CC BY-SA 3.0)