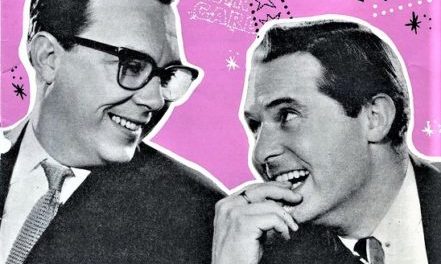 John Eric Bartholomew (1926-84) from Morecambe and Ernest Wiseman (1925-99) from Leeds were Britain's most successful comedic double act, Morecambe & Wise. At the peak of their fame, their 1977 Christmas Show attracted a TV audience of 27 million, half the UK population. Actors and celebrities of all kinds craved an appearance on the Morecambe & Wise Show, often displaying talents that were otherwise hidden, such as singing, dancing or playing the straight man…
Eric Morecambe and Ernie Wise met as young variety performers in 1939 and hit it off straight away. They reunited after serving in WW2 and managed to secure a radio series in 1953, whilst honing their act in revue shows and pantomimes. They moved on to TV and by 1962 had found their niche and created many of the sketches they later developed, including the Grieg sketch shown above, in which Ernie originally played the conductor.
They made three comedy films in the 1960s and one in 1983. Their much-loved BBC TV series ran from 1969 to 1977 but, wanting a new direction and more film work, they signed with Thames TV. However, Eric had suffered from heart problems for some time and eventually had to stop dancing. Upon his death in 1984, their reign came to an end.
(Image [cropped]: Alwyn Ladell at Flickr.com / CC BY-NC-ND 2.0)