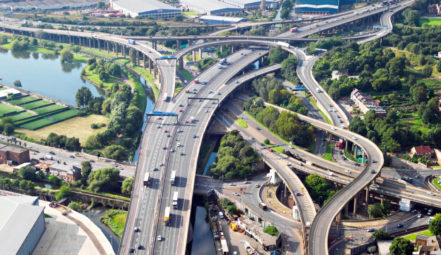 Spaghetti Junction is the nickname for the world's most complicated motorway intersection. Its official name is the Gravelly Hill Interchange and it is junction 6 of the M6. This connects the M1, M5, M6, A38(M), A38 and the A5127, as well as other local roads in that area of Birmingham. It includes eighteen routes and covers thirty acres of land, some of which had to be purchased from local residents, whose houses were then demolished.
It was at least four years in the planning and another four in the construction, which began in 1968. It eventually opened on 24th May 1972. Amazingly, it is located over two rivers, two railway lines and three canals, hence the 13.5 miles of elevated roadway on five levels. These are supported by 559 reinforced concrete columns, the tallest reaching a height of 80ft.
The construction team did not take too kindly to the 'spaghetti' name at first, as it seemed to poke fun at what was a huge feat of engineering. It acquired the label even before building had begun, when sub-editor Alan Eaglesfield of the Birmingham Evening Mail made it the headline for an article commenting on the design in 1965 in which "a plate of spaghetti" was mentioned.
(Image: Highways Agency at Wikimedia Commons / CC BY 2.0)