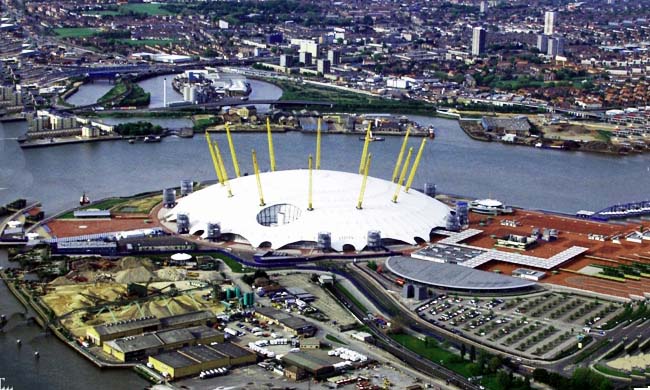 Where better to build an enormous structure dedicated to a moment in time than on 0° longitude just 3 miles north of the Greenwich Observatory? That is the location of the Millennium Dome (now called 'The O2'). It was designed, engineered and built by the British companies of Richard Rogers Partnership, Buro Happold and McAlpine Laing respectively over the course of 1996-9, with on-site construction taking just 15 months. Many of its metric dimensions relate to time, e.g. the diameter is 365 metres.
The Dome was heralded as another 'Great Exhibition' for the UK and was managed by the New Millennium Experience Co.Ltd.. It was open throughout the year 2000 with ticket sales of £189,000,000 from 6,500,000 visitors. There were 14 zones around a central 20,000-seat arena where music by Peter Gabriel accompanied fantastic acrobatic performances. The zones were named:
Body, Faith, Home Planet, Journey, Learning, Living Island, Mind, Money, Play, Rest, Self-Portrait, Shared Ground, Talk, Work
The Dome is the world's 9th largest structure in terms of usable interior space, which is 1,080,000 sq.ft.. With 12 supporting towers and 2,600 cables, it is a modern example of advanced engineering. Although its Teflon-coated roof is extremely lightweight it is strong enough to have people climb it, as if it were a hill!
(Top image: Ray Jones at geograph.org.uk / CC BY-SA 2.0)