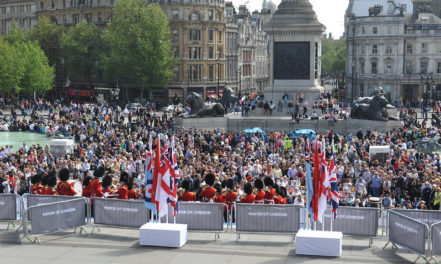 V.E. Day (Victory in Europe) commemorates the ending of WW2 on the European continent on Tuesday 8th May 1945. Although there were euphoric celebrations all over the UK, people felt mixed emotions. Millions had died, including 450,000 Britons, so all subsequent anniversaries are generally quite sombre.
The milestones receive the most attention, such as the 75th, for which the Early May Bank Holiday was shifted to coincide with it. On these occasions there are various events of a military and religious nature, as well as parades of the key workers during the War, such as the Land Army girls, the Air Wardens and the Merchant Navy. Schools and other youth organisations may also have themed activities.
Queen Elizabeth II has said that the actual day was one of the most memorable of her life. Her parents, King George VI (1895-1952) and Queen Elizabeth (1900-2002), emerged onto the balcony of Buckingham Palace eight times to wave to the enormous gathering below and she and her sister, Princess Margaret (1930-2002), were allowed to go down into the crowds in time for the eighth appearance. Sir Winston Churchill (1874-1965) spoke to the nation at 3pm on the radio and stood on the balcony himself at 5.30pm to rapturous acclaim.
(Top image of VE Day parade in 2015: John Pannell at Flickr.com / CC BY 2.0)