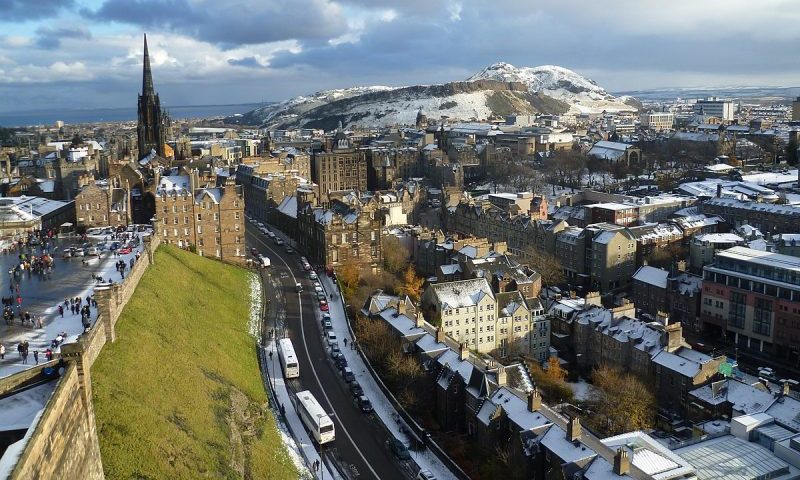 Edinburgh, the capital city of Scotland, complements the surrounding geological heights with its own towering architecture. The extinct volcano of Arthur's Seat and its satellite vent known as Castle Rock, along with other prominences such as the Braid Hills, Craiglockhart Hills, Calton Hill, Blackford Hill, Corstorphine Hill and the Salisbury Crags form its natural setting. The man-made additions, the majority having at least four storeys, crowd into the historic Old and New Towns and the Marchmont districts. Many church spires populate the skyline and lofty Edinburgh Castle, seemingly grown out of Castle Rock, guards the city below.
For some centuries Edinburgh was the northernmost point of the Angle kingdom of Northumbria but it became part of south-east Scotland in a battle in 1018 and was designated the capital by 1437. It sits south of the Firth of Forth, with Leith serving as its gateway port town.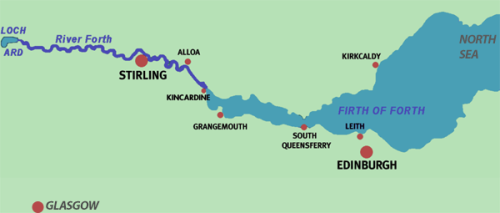 The
Scottish devolved government
is headquartered in Edinburgh at the
Holyroodhouse Palace
end of the famous Royal Mile, the route in the Old Town leading up to Edinburgh Castle. Tourists flock to the city in summer for the 'Edinburgh Fringe', a 25-day extravaganza of arts and comedy, and the Royal Edinburgh Military Tattoo, performed throughout August.
(Top Image of view from Edinburgh Castle towards the Firth of Forth: Kim Traynor at Wikimedia Commons / CC BY-SA 3.0)