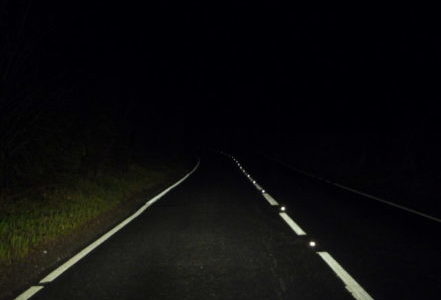 The Catseye, trademark of Reflecting Roadstuds Ltd, was invented by Percy Shaw, OBE (1890-1976) who was born in Yorkshire. He was prompted by the difficulty of driving home on foggy nights down an unlit, winding road. Shiny tram lines and gleaming cats' eyes stood out in the darkness, leading to his 'light-bulb moment'.
Developing the idea of reflective lenses invented by Richard Hollins Murray in 1927, Shaw designed a round cast iron casing with a vulcanised rubber insert to hold two pairs of lenses with mirrored backs. He also included a rainwater collection chamber which cleans the lenses whenever the domed top is depressed by a car's tyres. The casing is held in place by bitumen grout. He patented his idea in 1934 and set up Reflecting Roadstuds Ltd the following year.
As fate would have it, the blackouts of WW2 proved the immense life-saving value of the 'Catseye' and by 1947 they were officially adopted throughout the UK and were exported all across the world. The most common are the white ones, used for the centre of the road and lane marking. Red is for hard shoulders, green for slip roads and lay-bys, amber for central reservations and blue for emergency services areas.
(Image: Chris Downer at geograph.org.uk / CC BY-SA 2.0)