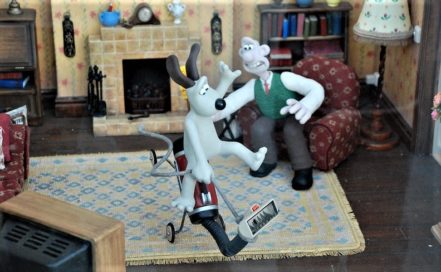 Making a stop-frame or stop-motion animation film is a painstaking, slow process, but Nick Parks, CBE, RDI (Royal Designer for Industry), had the patience, enthusiasm and talent to pursue what began as a hobby to produce some of the best-loved British films of recent times. Born in Preston in 1958, Parks was encouraged to design and make things as a child, and his first film animation was made on his mother's camera using scraps of felt.
His first idea for Wallace and Gromit visualised the inventor Wallace with a bushy moustache and the sagacious Gromit as a cat! It took seven years to complete his first short film animation featuring the two clay figures, entitled 'A Grand Day Out' (1989), during which Park joined the Aardman Animations company in Bristol, where the other four Wallace and Gromit films would be created.
'The Wrong Trousers' came out in 1993, 'A Close Shave' in 1995, 'Wallace & Gromit: The Curse of the Were-Rabbit' in 2005 and lastly 'A Matter of Loaf and Death' in 2008. Wallace was voiced by actor Peter Sallis, who died in 2017 aged 96, and it is difficult to imagine any other voice portraying the same lovable, well-intentioned, gently eccentric character, or the same delight for 'Cheeeeeese!'.
(Image: Jordanhill School D&T Dept at Flickr.com / CC BY 2.0)