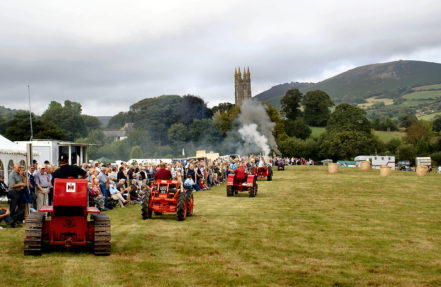 Widecombe Fair has taken place annually in that Dartmoor village in Devon on the second Saturday of September, possibly since before the mid-1800s. It began as an agricultural show for local farmers, but has evolved into a celebration of all things rural. It is typical of fairs around the country, though Widecombe has an extra claim to fame, in that it is immortalised in the 'Widecombe Fair' folk song, heard in this video:-
Additions to the Widecombe Fair schedule of events began in the 1920s, with local schools organising field sports and pony classes. Villagers contributed rural craft displays and in years when ponies were withdrawn due to disease safeguards, other events, such as terrier racing, were inserted, then remained.
Today, Widecombe Fair attracts spectators from further afield and special road traffic management has to be put in place in the narrow country lanes. Folk music and refreshments of all kinds are a-plenty, along with the essential traditional highlights, such as the 'Old Tom Cobley Downhill Running Race' (not for the faint-hearted), ferret racing, hawking, dogs and ducks demonstrations, thatching, sheep-shearing, bale-tossing and the tug-o'-war. The Fair is run entirely by volunteers and funds raised are donated to charity.
(Image of tractor parade at 2006 Widecombe Fair: Barry at Flickr.com / CC BY-NC-SA 2.0)