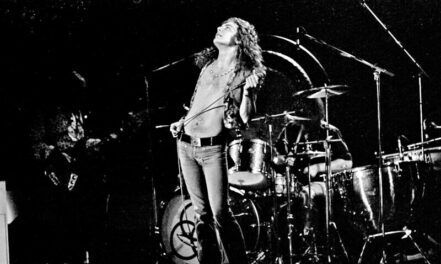 For a band that refused to put out singles in the UK, it is ironic that TV's 'Top of the Pops' (1964-2006) used a cover of one of Led Zeppelin's LP tracks, 'Whole Lotta Love' (1969) during 1970-77 and 1998-2003 as its theme tune. Aside from that footnote in pop history, they were known exclusively in the heavy metal arena, playing a fusion of blues, folk and rock. Their live performances expanded on their studio recordings and broke attendance records in the U.S.A. formerly set by The Beatles.
In 1968, The Yardbirds' lead guitarist, Jimmy Page (1944-) from Middlesex hurriedly put together a new line-up to fulfil the recently-disbanded group's final gigs. He recruited singer Robert Plant (1948-) from Staffordshire, bassist John Paul Jones (1946-) from Kent and drummer John Bonham (1948-80) from Worcestershire. They subsequently decided to make it a long-term arrangement. The band's name was a self-deprecating twist on "going down like a lead balloon".
Bonham's death from a drunken episode ended the band's phenomenal run. Their worldwide sales of more than 300 million records include classics such as 'Communication Breakdown' (1968), 'Ramble On' (1969), 'Immigrant Song' (1970), 'Stairway to Heaven' (1971) and 'Kashmir' (1975). Their first four LPs (1969-71) plus the double-LP 'Physical Graffiti' (1975) are considered by many to be their best.
(Top image: Heinrich Klaffs at Flickr.com / CC BY-NC-SA 2.0)