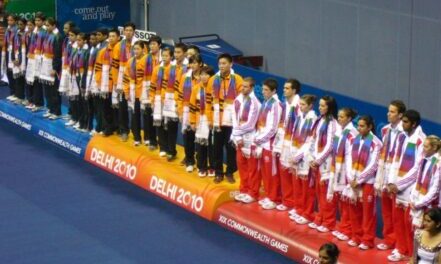 Having a similar format to the Olympics, the Commonwealth Games began life in 1930 as the British Empire Games and went through a few name changes until the current style was adopted in 1978. The Games, nicknamed 'the Friendly Games', take place every four years in one of the Commonwealth member countries. Wales has hosted it once, Scotland thrice and England twice, with a third English event scheduled for 2022.
The constituent nations and dependencies of the United Kingdom send separate teams, so, for example, the Isle of Man has sent its own athletes since 1958 and hosted the Commonwealth Youth Games in 2011.
Also in 1958, when the Games were held in Cardiff, there started the tradition of the Queen's Baton Relay whereby a message from the Leader of the Commonwealth of Nations ~ formerly Queen Elizabeth II ~ sends a message inside a baton to arrive at the Games' Opening Ceremony. In 1998 in Kuala Lumpur, the baton arrived outside the stadium atop an elephant!
The host nation helps to choose which sports are included and the variety has gradually increased over the years. Sports such as cricket, netball, lawn bowls, hockey and archery have all made an appearance. Australia has been the most successful participant overall.
(Top image of 2010 badminton team medallists: Doma-w at Wikimedia Commons / CC BY-SA 3.0)