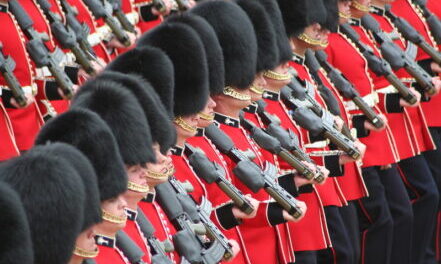 The visibility of a distinctive regimental flag is of great importance on a crowded battlefield, as is the practice of drills and getting into formation. These requirements crystallised into the Trooping the Colour military parade, held annually since 1760. The 'colour' is the flag and 'trooping' is marching that flag up and down battalion lines to familiarise the soldiers with it.
Times change but the ceremony endures as a much-loved part of the monarch's Official Birthday. The Royal Artillery and the seven regiments of the Household Division ~ the Grenadier, Coldstream, Scots, Welsh and Irish Guards infantry, plus the Blues & Royals and the Life Guards cavalry ~ take part and the flag to be trooped is selected in rotation. For example, in 2019 it was the turn of the 1st Battalion Grenadiers, while in 2020 the honour fell to the 1st Battalion Welsh Guards.
The monarch is usually on horseback for the inspection of the troops but Queen Elizabeth II (1926-2022) can be forgiven for riding in a horse-drawn open carriage in her later years. She would cast her eye over more than 1,400 soldiers, 200 horses and 400 bandsmen, taking their salutes and thoroughly enjoying the spectacle, culminating in a Buckingham Palace balcony appearance and an RAF fly-past.
(Top image: Jon's pics at Flickr.com / CC BY 2.0)