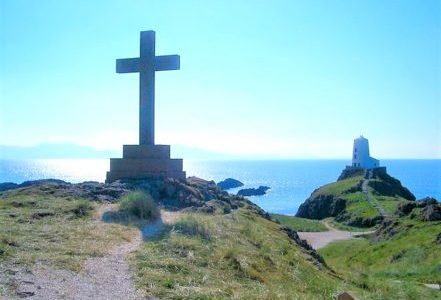 St. Dwynwen's Day is on 25th January and commemorates the Welsh patron saint of lovers ~ a chance to exchange Welsh lovespoons! The legend is that Dwynwen was the daughter of a Welsh king who ruled in the fourth century. Having twenty-three other daughters, he must have forgotten to tell Dwynwen that he had arranged a marriage for her and, unfortunately, she promised herself to another man, Maelon Dafodrill.
This was never going to end well. Maelon behaved despicably, leaving Dwynwen in such a turmoil that she asked God to erase her love for Maelon. God went even further, encasing him in ice. Dwynwen then asked God for three more favours ~ to melt the ice; to ensure she never again had any romantic desires; and to reward couples truly in love with the fulfilment of their dreams.
She became a nun and went off to a tiny tidal island off the west coast of Anglesey, where she founded a convent. The island, Ynys Llanddwyn, is named after her and is in a beautiful spot with views of Snowdonia. A wishing-well there is supposed to be home to magical eels whose reactions reveal the faithfulness or otherwise of a potential husband.
(Image of Ynys Llanddwyn: Noel.Morgan2000 at Wikimedia Commons / Public domain)