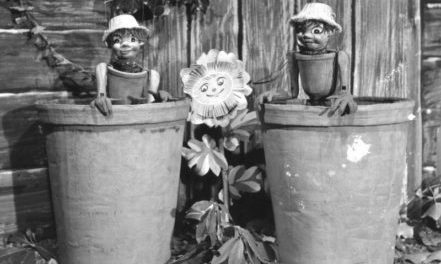 London-born Freda Lingstrom, OBE (1893-1989) was a pioneer of radio and television programming for pre-school children. She launched BBC radio's 'Listen with Mother' in 1950 and it was so successful it ran until 1982. It was a collection of stories, songs and nursery rhymes and it aired just after lunch on Monday to Friday. Two years later, as Director of BBC Children's Television and assisted by Maria Bird (1891-1979), she put together an equivalent schedule for TV and so began 'Watch with Mother'.
Each day's 15-minute programme featuring puppet characters aired at 3.45pm and had its own title:-
Monday: 'Picture Book' with Sausage the dachsund
Tuesday: 'Andy Pandy' joined by Teddy and Looby Loo
Wednesday: 'The Flowerpot Men' with Bill & Ben and Weed
Thursday: 'Rag, Tag and Bobtail', a hedgehog, a mouse and a rabbit
Friday: 'The Woodentops' with Spotty Dog and Buttercup the Cow
After the first few years of filming (in black-and-white) the episodes were repeated, with 'Andy Pandy', the most popular show, being repeated 34 times until the film wore out! A one-off series in colour was then produced in 1970. Other titles were introduced over the years, such as 'Bagpuss', 'Trumpton' and 'Tales of the Riverbank' and the whole series continued until 1980.
(Top image of The Flowerpot Men: The Lowry at Flick.com / CC BY-NC-ND 2.0)