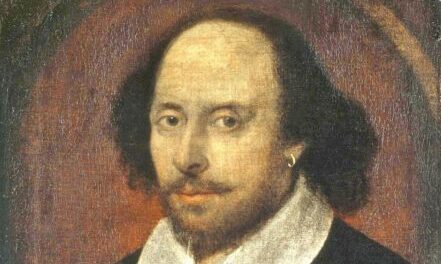 "He was not of an age, but for all time"… so wrote Shakespeare's friend, Ben Jonson, in the preface to the First Folio, a collection of William Shakespeare's plays after his death at age 52 in 1616. Thanks to two other friends and fellow actors ~ John Heminge and Henry Condell ~ thirty-six of his plays were saved for posterity in this publication, to be studied and dramatised with unceasing admiration and the highest esteem ever since. Shakespeare is undoubtedly the most famous and celebrated British writer.
He was born in Stratford-upon-Avon in 1564, the third of eight children, was married to a pregnant Anne Hathaway in 1582, then made his way to London as an actor and writer of plays, poems and sonnets. One rival called him an "upstart crow"; another a "Johnny do-it-all". Nevertheless, his acting company was very successful, playing to royalty many times, and Shakespeare became a wealthy property owner. He was able to retire back to Stratford-upon-Avon in 1613.
Samuel Johnson quoted Shakespeare thousands of times in his Dictionary. Shakespeare gave us hundreds of words, idioms and insightful sayings that enrich our language and understanding of ourselves. We often quote him without even realising it..
(Top image: pixabay.com)