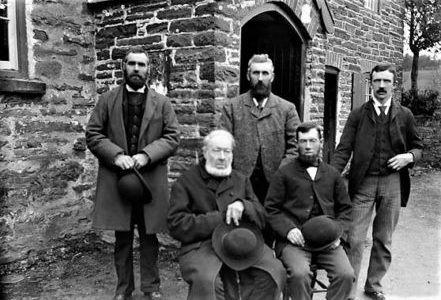 In 1735, two young men from mid-Wales, Howell Harris (1714-73) and Daniel Rowland (1713-90) joined the Church of England to become clergymen. Both were enthusiastic, fire-and-brimstone evangelists, preaching outside if necessary. Harris once commandeered a village green surrounded by seventeen pubs! The CofE shunned their controversial style, which naturally attracted large crowds for its graphic warnings of damnation.
Exasperated at the CofE's attitude, they decided to form their own groups in common with English Methodists. However, they diverged from them too in 1740, when they backed the assertion of Frenchman Jean Cauvin (Calvin) (1509-64) that God has already decided who to save and who to send to eternal death and, as depraved mankind, we cannot change this. Under the Toleration Act of 1795, the movement could eventually ordain its own priests, called 'exhorters'. The Calvinistic Methodists broke with the CofE in 1811 and established a Confession of Faith in 1823.
They thrived all over Wales and were responsible for teaching many to read via Biblical study in their Sunday schools, open to all ages, not just children. They reached their peak in 1926, when they had 190,000 followers. Today there are 20,000 in six hundred chapels and the names 'The Presbyterian Church of Wales' or simply 'the Methodists' are also used.
(Image: John Thomas at Wikimedia Commons / Public domain)