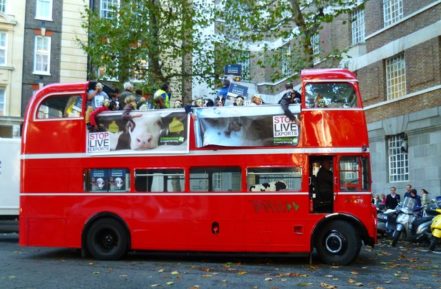 The UK passed the world's first animal welfare law in 1822, with the Cruel Treatment of Cattle Act. The Protection of Animals Act of 1911 widened the scope and was followed by more than a dozen other laws giving some protection to animals used in farming, entertainment, sports, medical research and as pets.
Running through all of these is the idea that so-called 'unnecessary' harm must not be done to animals, implying that some harm is necessary. This has been the subject of much disagreement. Although Darwin's 1859 'Theory of Evolution' gave proof that all animals are sentient, it is only 150 years later that politicians have finally promised to enshrine this in law, after the UK leaves the EU.
It has taken a great deal of protest action on the part of activists to make animal rights a key election issue. The Hunt Saboteurs Association was founded in 1962 and the Animal Liberation Front began in 1973. Some of the action was illegal, such as the setting alight of a garage at Professor Sir John Vane's house. Today's campaigns, such as boycotting certain products, submitting petitions to MPs and non-violent demonstrations outside shops, laboratories and government departments, continue to raise public awareness.
(Image of protest outside DEFRA: Shazz at geograph.org.uk / CC BY-SA 2.0)