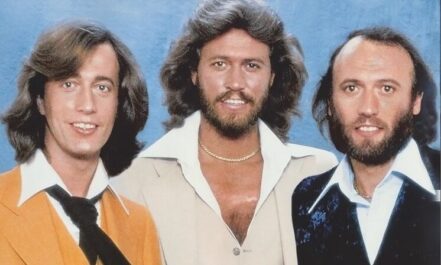 Sir Barry Gibb (1946-) and his twin brothers Maurice Gibb (1949-2003) and Robin Gibb (1949-2012) knew instinctively as children that they were destined to follow a singing and song-writing career together. Born on the Isle of Man, they grew up in Manchester, then Redcliffe and Sydney in Australia in 1958-66.
First singing in public when the twins were only six, they returned to the UK in search of stardom, ensured by their distinctive vocal harmonisation and talent for writing chart-topping songs, not just for themselves but for other artistes too. The group's name was derived from the same B.G. initials of Barry, their mother and two men who initially helped promote them, hence 'The B.G.s,' which transformed into The Bee Gees.
Their first UK no. 1 single was 'Massachusetts', in 1967. Eight years on, in 1975, Barry discovered his falsetto range, which then featured extensively in their songs. In the studio, the trio would sing round one microphone and their different vibratos added another dimension to the mesh. Whilst recording the 'Saturday Night Fever' album in 1977, they were told it was to be used as the soundtrack for a film their manager was making. It went on to be the best-selling soundtrack of all time.
(Top image: John at Flickr.com / CC BY-SA 2.0)