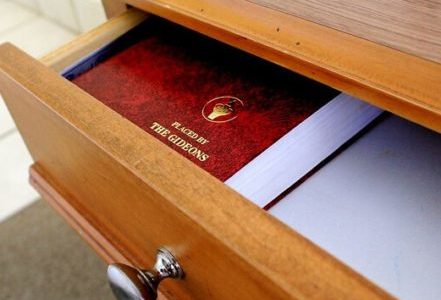 The Gideons were formed in the USA in 1899 by a group of travelling businessmen. They wanted to spread the Christian religion and their idea was to place copies of the Bible where people can read them in a spare moment. These Bibles are free of charge to the hotels, nursing homes, schools, prisons, hospitals, campuses and military bases that agree to take them.
Thirty million Gideon Bibles have been distributed in the UK since 1949 among two billion worldwide. They are the King James version and the covers are colour-coded according to the target groups. The shortened edition, comprising the New Testament, Psalms and Proverbs, is the one given to schoolchildren.
Today, other religions are wanting to copy the Gideons' initiative, which is funded by donations from Christian supporters. Some organisations are deciding not to accept any religious books at all. The Gideons now promote their app (called 'The Gideon Bible') by which subscribers can search, read and listen to Bible texts.
(Image: Sarah-Rose at Flickr.com / CC BY-ND 2.0)