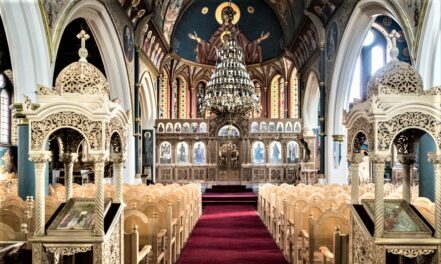 Before the Norman Conquest of 1066, Britain's practice of Christianity was 'orthodox', i.e. sticking to the original beliefs and texts, periodically confirmed by major council meetings elsewhere. However, in 1054 disagreements caused the 'Great Schism' whereupon Eastern and Western churches separated. The ideology of the latter arrived with the Normans, to whom the Pope in Rome was supreme, rather than just another Bishop.
Pockets of interest in restoring Orthodoxy existed in the 18th and 19th centuries but little resulted until immigrants from Eastern Orthodox countries such as Greece and Poland in the 20th century brought it with them. There are currently more than 100 Orthodox parishes in the UK, including many Russian and Serbian communities. The British Orthodox Church, now autonomous and the only all-English-speaking Orthodox church in the UK, was established in 1866 as an outpost of Oriental Orthodoxy though it faced stiff opposition.
The first Greek Orthodox church in London dates to 1677 but it was short-lived. It would take another two centuries for Orthodox churches to be properly established and in 1922 the first Orthodox bishop in Britain was appointed as head of a new 'Archdiocese of Thyateira & Great Britain' under the hierarchy of the 'Ecumenical Patriarch of Constantinople' (modern-day Istanbul in Turkey).
(Image of interior of St. Andrew's Greek Orthodox Cathedral, London: John Salmon at geograph.org.uk / CC BY-SA 2.0)