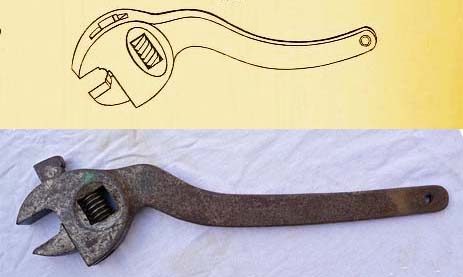 For Yorkshireman Richard Clyburn (1796/7-1852) to become a consulting engineer in his early 30s, he must have shown impressive manual, technical and design skills early in life. He had moved down to Gloucestershire and went on to become a partner at Uley Iron Works, manufacturing tools with replaceable parts. The business was then purchased by Henry Reynolds-Moreton, the Earl of Ducie (1802-53) in order to produce new, efficient tools and machinery for his modernised farm.
Another talented engineer there was Edwin Beard Budding (1796-1846), the inventor of the lawnmower. The Earl, Budding and Clyburn worked together to successfully produce a newfangled chaff-cutter, among other implements. Clyburn alone, however, is credited with inventing the adjustable spanner, in 1842 and registering the patent in 1843. This saved time and space, since it replaced the need to select from a whole array of differently-sized fixed spanners. Today it also overcomes the problem of there being two measurement codes ~ imperial and metric.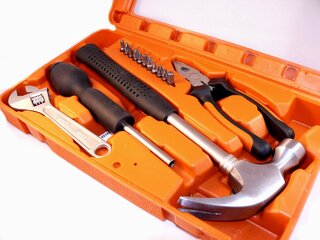 The rack-and-worm 'Clyburn spanner' was available right up to the early 1960s and came in various lengths from 6″ to 24″. The featured photographs show the two styles ~ curved and 'straight'. The vintage spanner below the drawing is not confirmed as a Clyburn but it is the right shape.
(Top images (top to bottom): 1871 drawing of Clyburn's curved spanner in Spon's via Internet Archive Book Images / Public domain & pszz at Flickr.com / CC BY-NC-SA 2.0)