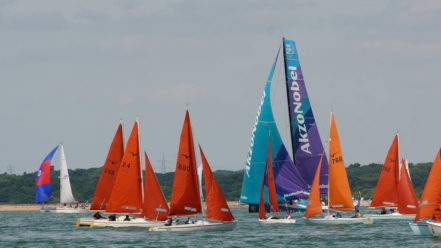 Cowes Week takes place every year at the beginning of August and is based at the small port of Cowes on the Isle of Wight. It is a boating regatta and although it has always had aristocratic connections, it is open to anyone who owns a correctly prepared boat, can muster a crew and pay the application fee.
There are forty races on each of the eight days, with four different start lines in the Solent, which is the channel between the Isle of Wight and the coast of mainland England. This is a very busy stretch of water, so there are occasional bumps and crashes! Cowes Week is also a social event, with parties, street entertainment, fireworks and the brilliant Red Arrows making an appearance:-
It is one of the longest-running regattas in the world, having started in 1826. It grew so much in popularity (and complexity) that by 1964 Prince Philip was suggesting that it needed a co-ordinated organising body ~ hence the formation of Cowes Combined Clubs Ltd. This oversees the race programme for a thousand boats in two groups, three or four divisions and up to forty classes.
(Top image: Peter Trimming at geograph.org.uk / CC BY-SA 2.0)