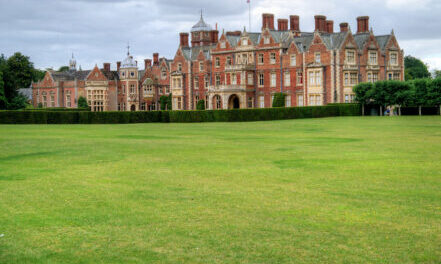 While the Crown owns thousands of properties in the UK,  just a few are registered to the monarch personally. Sandringham Estate in Norfolk is one such property. It has had a succession of royal owners since Queen Victoria (1819-1901) purchased it in 1862 as a country retreat for her London-based socialite son, the future King Edward VII (1841-1910), who proceeded to add entertainments, including a bowling alley, billiard room and all 'mod-cons' to a much larger re-building of Sandringham House. He also established the Royal Stud there in 1886.
His successor, King George V (1865-1936), loved the place and indeed died there. King Edward VIII (1894-1972) then briefly took possession but on his abdication was obliged to sell the Estate to his younger brother, King George VI (1895-1952), who both began and ended his days there.
Today, Sandringham Estate comprises 20,000 acres in which there are 13 villages, several small churches, a small railway station, large areas of farmland, conservation-oriented businesses, parkland, gardens, a museum and visitor facilities. Queen Elizabeth II (1926-2022) spent every winter there and most royal babies are christened in St. Mary Magdalene Church, a short walk from the House. Prince Philip (1921-2021) managed the Estate on the Queen's behalf and retired there.
(Image: David Dixon at geograph.org.uk / CC BY-SA 2.0)