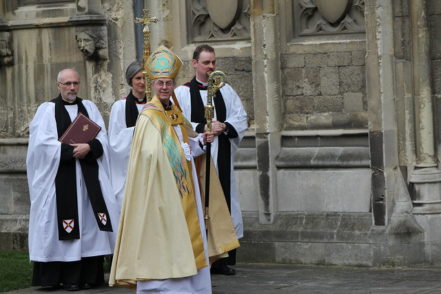 The Archbishops of Canterbury and York
The two Archbishops are the most senior members of the Church of England. Of the two, the Archbishop of Canterbury is held to be above the Archbishop of York and it is he who has the privilege of crowning a new king or queen, for example. They are replaced only upon death, retirement or resignation and the selection process is quite convoluted, culminating in a submission to the Prime Minister and finally the monarch.
There have been one hundred and five Archbishops of Canterbury.  The very first was St. Augustine, who was enthroned in 601 and the current incumbent is The Most Reverend Justin Welby, enthroned in 2013. He has two official residences, one at Lambeth Palace in London, the other at Old Palace in Canterbury itself. He has authority over thirty dioceses in the south.
There have been ninety-seven Archbishops of York, the first being Paulinus in 626 and the latest being The Most Reverend John Sentamu, who is due to retire in 2020. His official residence is at Bishopthorpe Palace near York and he has authority over fourteen dioceses in the north. In the past there have been quarrels about which Archbishop took precedence, but an Act of Parliament in 1539 confirmed Canterbury's status.
(Image of current Archbishop of Canterbury: richardwcollins at Flickr.com / CC BY-ND 2.0)