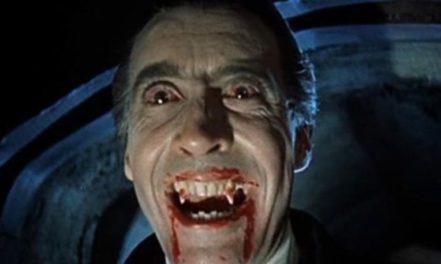 Hammer Film Productions Ltd was formed in 1946, taking 'Hammer' from one of the owners of its parent company, who had taken it as a stage surname because he was living in Hammersmith. The company released its first gothic horror film in 1957 and this genre became its bread-and-butter for the next fifteen years.
A 17th-century country house beside the River Thames in Berkshire was purchased as a film studio. This was a perfect setting and every part of it was used at some point during the making of up to nine films per year. The first film, 'The Curse of Frankenstein', cost just £65,000 to make and subsequent films were likewise made in the most cost-effective way. Sometimes films were made back-to-back in order to maximise the use of available sets, cast and staff. Peter Cushing (1913-94) and Christopher Lee (1922-2015) starred in most of the Hammer horrors.
Audiences revelled in the other-worldly yet predictable stories of ghouls, werewolves, zombies, vampires and monsters typified by Frankenstein and Count Dracula. Hammer found a winning formula that endured until the early 1970s, when multi-million-dollar horror films went in a new direction which put Hammer in the shade. For a while though, horror was chilling but thrilling.
(Image: Wikimedia Commons / Public domain)