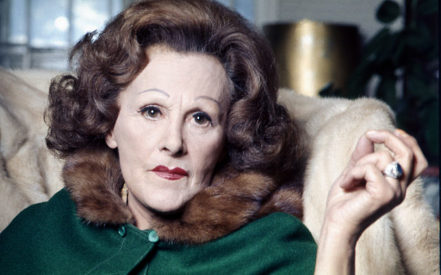 Fanny Cradock (1909-94) was not quite the first TV chef to grace British screens, but she could lay claim to being the first 'celebrity' TV chef. With her partner, Major Johnnie Cradock (she took his name by deed poll as a previous husband would not grant her a divorce), she inspired women to be more adventurous in the kitchen after the ending of food rationing in 1954.
Fanny and Johnnie had an 'act' which may or may not have been true to their real-life relationship ~ she the domineering, bossy snob and he the hen-pecked underling. They performed this in theatres before being asked to bring it to television.
Fanny was an ardent admirer of Continental cuisine and gave all her dishes French names. She wore lots of make-up, with large false eyelashes, and she often wore chiffon ball-gowns with no protective apron whilst cooking. Her eccentricity unfortunately made her a figure of fun in later years. Fanny is credited with introducing pizza to the UK and inventing the prawn cocktail. Of convenience food she said: "It's a load of muck".
(Image: Allan Warren at Wikimedia Commons)